Welcome
The Beach Haven Tennis Club is a community group, which is an incorporated club
to enable it to provide all levels of play through Tennis North Harbour.
The club has its four tennis courts at Shepherds Park, off Cresta Avenue.


Latest News

Official Opening of the courts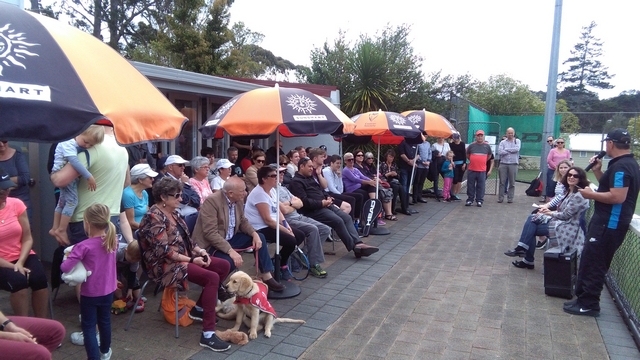 Our president Norman Quinn addressing the crowd


Check the Interclub details for the 2017/2018 season
Click here or use the link on the Interclub page

Upcoming Events and Important Dates



Date

Event

| | |
| --- | --- |
| 18 September 2017 | Summer Interclub commences |
| October 2017 | Junior coaching start |
| 13 October 2017 | Prize Giving / Social Club Night |
| 27 October | Reserve night for Prize Giving |
| 5 November 2017 | Kaipatiki Bridge Cup tournament vs Glenfield |
| 12 November 2017 | Start of Senior Champs (Singles) and Midweek too |
| 19 November 2017 | Senior /Champs - rain day |
| 27 November 2017 | Kaipatiki Bridge rain day |
| December 2017 | Gather names for officials at the ASB Classic and Heineken Open |
| 3 December 2017 | Rom Tennis tournament |
| 10 December 2017 | Rom Tennis rain day |
| 16 December 2017 | Last Interclub before Xmas |
Turf Notes:


When you come and have a hit, keep the following in mind.


1. Artificial courts take time to bed in. The sand needs to be worked into the fibres and the best way to improve their playability is by using them. So, we want to encourage everyone to get playing on them asap or, even if it's just to go for a run around the edges. The more you stamp the better they'll play!

2. There will be dead spots and funny bounces for a little while so please bear with us. As the courts cover a huge area members are encouraged to take note of any problem areas and feed that information back to Walter so they can be remedied.

3. The sand is wet, so it will take longer to work into the fibres at this time of year than if installation happened during the summer. But the advantage of doing it now is that we'll be ready for the new summer season.

4. At the moment a lot of the sand is sat on top of the turf, but in a few weeks the sand may not be visible at all, having worked its way down into the fibres. A second sand drop and groom will likely be required before the courts are perfect.

5. The new courts won't play exactly like the old ones. The previous courts were nearly 15 years old and had compacted to form a very hard and fast surface. The new turf will likely be slower and softer underfoot.




Midweek Championships draws
are now on-line, Click here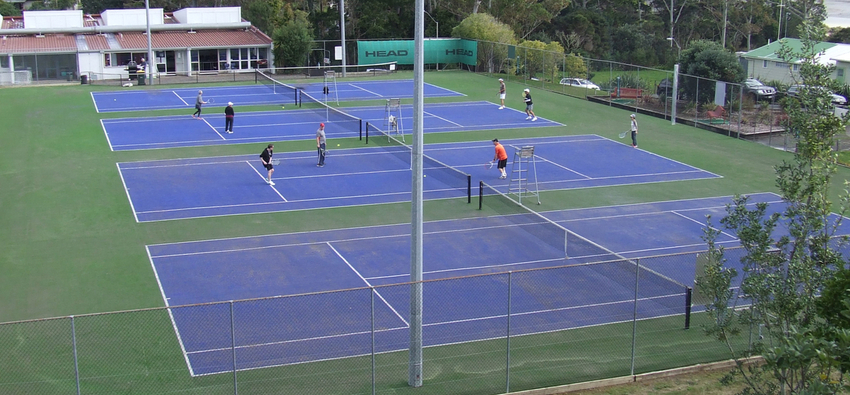 Midweek - Bakers Delight Tournament
Bakers Delight Birkenhead has agreed to sponsor our
tournament for another year.
THANK YOU VERY MUCH !!
Please support our sponsor by visiting the shop and buy some
of the delicious products available.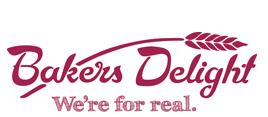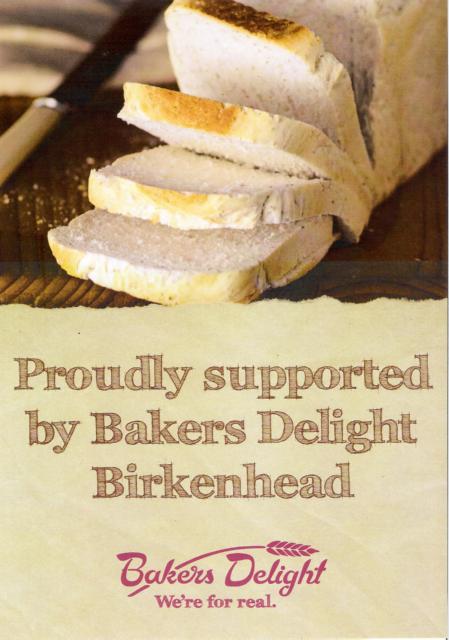 Beach Haven Tennis Shirts and Caps

Beach Haven Tennis shirts and caps can be ordered by
ringing Walter Dijkgraaf, phone: 483 3749
There are 3 styles, Unisex Polo & Tee and a women's V-neck
All are white with blue trim and have the club logo on the left side
Click
here
to view the details and the order form
Lost and Found

A number of clothing items have been floating around in the club house for some time.
A clothing rack has been added to the club house furniture with the left behind items on coat hangers or hanging from clips.
Have a browse next time and feel free to recover your lost property.

Wednesday Morning Tennis

The Wednesday morning tennis session is open for all members and is going strong.
Why not come along to hit a few balls in a relaxed atmosphere.
Play starts at 9:00 AM.

On the first Wednesday in the month the Bakers Delight Tournament is played.
The prize is a voucher for $20 to be redeemed at our sponsor:
Bakers Delight Birkenhead.